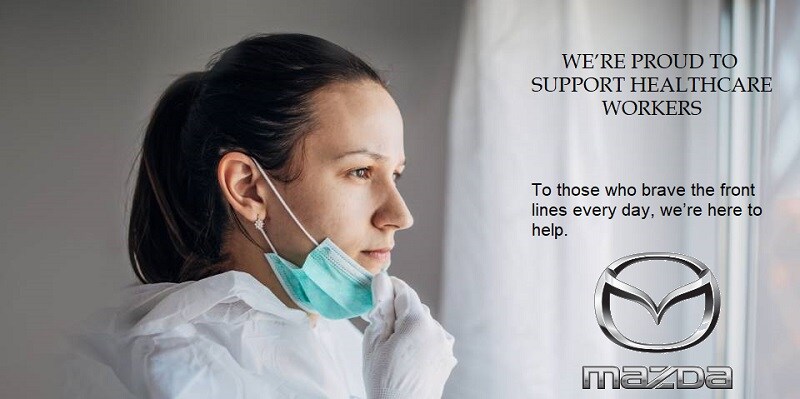 Sellers-Sexton Mazda in St. Robert, MO is proud to partner with Mazda USA to provide FREE oil changes and enhanced vehicle cleaning for health care workers. This partnership honors our health care workers as they work tirelessly to take care of us.

What's included:
Free oil change and car wash for health care workers, with enhanced cleaning of high touch surfaces, REGARDLESS of vehicle manufacturer

Eligible facilities:
Hospitals, Urgent Care, Surgical Centers, Birth Centers
Healthcare Providers, Doctor Offices, Medical Clinics, Medical Offices, Mdeical Centers, Medical Facilities, Health Systems,
Mental Health Provides and Addiction Treatment Centers
Medical Testing Facilities, Imaging and Radiology Centers
Assisted Living, Long Term Care Facilities, Nursing Homes, Hospice Homes, Adult Care Homes, Home Health Agencies
Public Health Agencies
Medical Lab and Research Centers
Medical Equipment Providers
Orthopedic and other Rehabilitation Centers (Physical Therapy, Chiropractic,etc)
Blood Banks
Telehealth Providers
Call 573-336-2000  to schedule your appointment today!  Be sure to mention the health care worker program to the service adviser. Or schedule on-line here

.




Ineligible vehicles and Limits:
Excludes exotic vehicles, classic car vehicles, off road vehicles and vehicles with greater than 8qt engine oil capacity or any other vehicle with special manufacturer requires or that require special tools or training.
Limit of 1 oil change and car wash/enhanced cleaning per person per program period
Program benefits available through May 31st, 2020.
Service Hours
Monday

7:30am-5:30pm

Tuesday

7:30am-5:30pm

Wednesday

7:30am-5:30pm

Thursday

7:30am-5:30pm

Friday

7:30am-5:30pm

Saturday

Closed

Sunday

Closed